Have you ever had a look at the window blinds in your home? If the blind slats have accumulated a layer of dust time or fabric blinds have been stained, Window blinds and shades can be effortlessly cleaned, dusted and maintained. Here's how to maintain and take care of your blinds to extend its life and conserve its actual condition. Truneto, providing the Best Window Blinds Installation Services in Bangalore. Here we are listing some DIY ways to clean your windows easily and effortlessly. Let's take a look at those ways of cleaning ideas.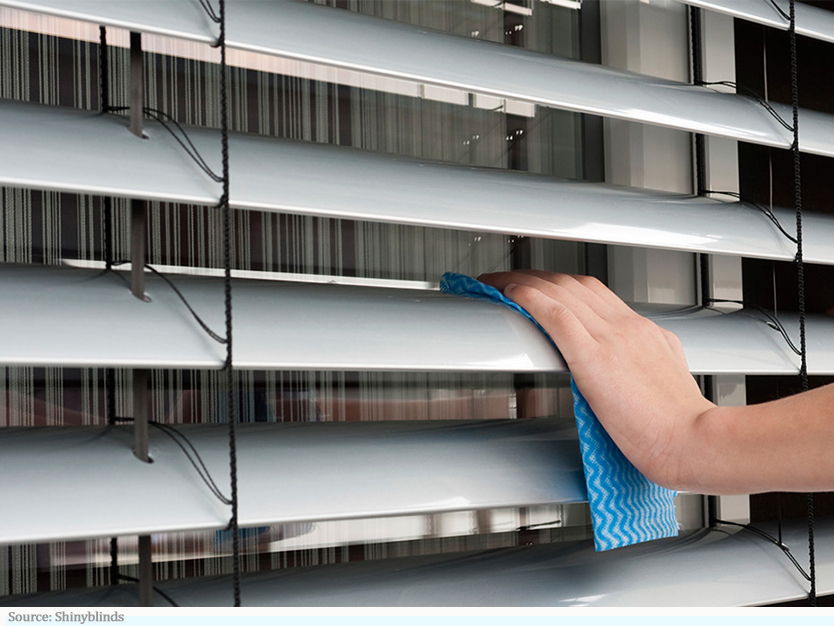 Cleaning Fabric Blinds
Most of the fabric blinds are fairly low maintenance which comes in wide varieties of materials and textures. Regular using of lint roller will helps in preventing the dust build-up. For a more thorough cleaning, vacuum on a low setting with the soft dusting brush attached. Spot-clean with a cloth dampened with a solution of mild detergent and water to get rid of any stains.
speck smoothly to avoid damaging the fabric. However, spot-cleaning may result in a lighter, cleaner spot on the fabric. In that case, you might want to consider giving your blinds a wash. Most varieties can be machine-washed, but double check the care labels before doing so. Make sure to wash the blinds in cold water, Using the mildest setting. Also, use a detergent that's formulated to wash delicate fabrics. Leave the shade fully extended to dry.
Cleaning Aluminium Venetian blinds
Regular light dusting will maintain a like-new appearance of your blinds. while raising or lowering Venetian blinds. To clean Venetian blinds, wipe each slat from the edge to the centre which prevents dust from accrue at the cords. Lower the blind to its full length, tilt the slats to an almost closed position, and dust. Then reverse tilt the slats and repeat. Blinds in the kitchen tend to gather a layer of grease. use a mild solution of washing liquid and warm water to dampen a soft cloth and clean. let your blinds air-dry. Avoid using scrubbing cleansers and ammonia-based products on the blinds as they could damage or scratch them. For deep cleaning, Vacuum gently with the soft brush attached.
Cleaning Wooden and Faux Wooden Venetian blinds
When cleaning your windows, spray the window cleaner on a cloth instead of spraying directly on the windows as the cleaning solution may splatter on to the wooden blinds. Clean the blinds like you would with the aluminium Venetian blinds. Make sure not to over saturate the cleaning cloth when cleaning wooden blinds as it may cause the wood to warp.
Cleaning Vertical Blinds
These blinds can be cleaned with a soft, damp cloth. Avoid using abrasives as they cause scratches or colour fading. The vertical veins of the blinds are delicate and can be damaged easily, so handle them gently while cleaning. For a quick pick-me-up between cleanings, Use a lint roller to pick up dust.
One quick trick for maintaining your blinds is to use a fabric softening sheet or dry-cleaning sheet after your blinds have been cleaned and fully dried. This will help repel dust and reduce the frequency of cleaning. It also adds a fresh, clean scent to your home!
Truneto, The Best Window Blinds Installation Service providers in Bangalore always up for your home service needs. If you are interested to know more about the services, Don't hesitate to call us for.

You May Also Like To Read: OFFICE CLEANING AND BUSINESS IMPACTS