What is referred to as house cleaning needs to be carried out in the home on a regular basis, preferably each day? But every now and again you will have to intersperse your basic cleaning with some deep cleaning. What you may ask, is the difference between these two types of cleaning? To help you to differentiate, we offer the following explanations.

House cleaning involves running a vacuum cleaner around the areas of flooring that receive the most traffic. It also includes a light dusting of your home in each of the rooms, including the kitchen and bathroom. You will also collect any clutter that's been left lying around too. The dusting process is mere to eliminate dust.
Neither does a house cleaning involve moving any of the furniture. When you receive unexpected guests, it's highly unlikely that they're going to scour those difficult to get at places looking for dust! So as long as the easily accessible surfaces have been dusted (after all, these are the only areas that are on constant display), there is little chance that you will come in for any criticism.
From a hygiene point of view, however, your kitchen and bathroom should be cleaned daily, and this should involve a light scouring and wipe down with a mild sanitizing solution such as disinfectant. One of the proprietary brands of kitchen/bathroom cleaners that are available over-the-counter at your local general store or supermarket should suffice. And, you want your house to be relatively clean and tidy as a professional but this is probably the hardest thing because they are well equipped and professional, so it is always good to hire a professional to give your house a professional touch.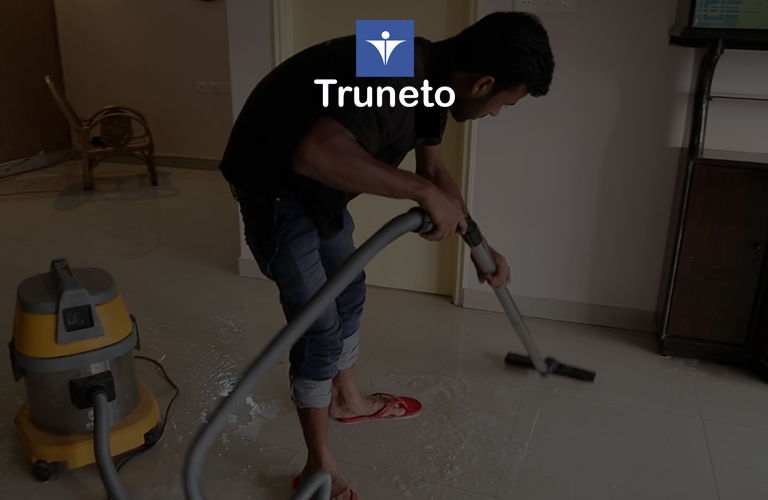 Basic House Cleaning Checklist - Truneto
• Ceiling fans and light fixtures (dusted)
• Cobwebs removed
• Blinds and window sills (dusted)
• Moldings and woodwork (dusted)
• Baseboards (dusted)
• Lamp and lampshades (dusted)
• Pictures and knick-knacks (dusted)
• Top of refrigerator
• Outside of appliances cleaned
• Stove-top and backsplashes (washed)
• All sinks (scrubbed/disinfected)
• Mirrors (Windexed)
• Tub/Shower and tiles cleaned
• All bathroom counters and fixtures cleaned
• Wastebaskets emptied
• Stairs (vacuumed, wood dusted)
• Floors (vacuumed and /or mopped)
• Balcony (mopped)
Deep cleaning involves everything you would normally do during a basic clean but with some extras thrown in for good measure. For example, this is where the furniture needs to be moved to get at those more difficult to reach areas. Both the underside and rear surfaces of furniture should also be cleaned.
Wiping down your blinds, curtains and cleaning the windows are also part of deep cleaning. You need to remove any cobwebs from walls, ceilings, and out of reach corners. Any air vents should also be cleaned.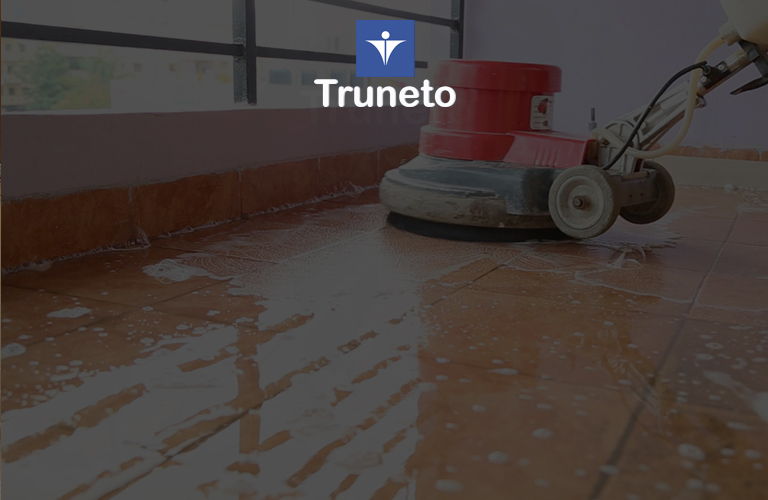 You may also take the opportunity to vacuuming your carpet. Deep cleaning is not something to be undertaken lightly as it is quite a labor-intensive exercise. If you'd rather spend more time with your family, (and who wouldn't?), then perhaps it's time you thought about hiring a cleaner from a local cleaning contractor.
Deep House Cleaning Checklist - Truneto
• Ceiling fan blades (washed)
• Light fixtures (hand washed in place / not removed)
• Blinds and shutters (vacuumed or washed) Mini-Blinds (dusted and washed )
• Moldings, woodwork, and window sills (hand washed or wiped)
• Baseboards (hand washed or wiped, reachable w/out moving furniture)
• Lamp and lampshades (dusted or vacuumed with attachment)
• Pictures and knick-knacks (hand wiped)
• Furniture (polished, fronts, sides, legs and or vacuumed)
• Stovetop and drip pans scrubbed
• All Cabinet fronts cleaned
• All doors (washed)
• Light switch plates (washed)
• Countertops and backsplashes (washed)
• Mirrors (Windexed all the way to top*)
• Tub / Shower tiles (double scrubbed if build up)
• Wastebaskets (emptied / washed/relined)
• Beds made (includes master and any additional beds)
• Stairs (vacuumed, wood washed)
• Floors (vacuumed and/or mopped includes closets)
• Vacuum all carpet crevices (crevice along the edge where bugs, animal hair, carpet fibers collect